Leon Huff
Co-Chairman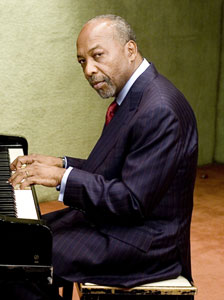 Co-Founder and Vice-Chairman, Philadelphia International Records
From the first moment his fingers pounded on the "C" keys in the opening melody to "Back Stabbers," Leon Huff helped create and bring the genre of Philadelphia soul music to the world. Along with his partner, Kenneth Gamble, Leon Huff wrote or co-wrote more than 3,500 songs in 45 years, including R&B #1 hits, pop #1 hits, gold and platinum records, Grammy winners and BMI songwriters awards honorees.
Born in Camden, New Jersey on April 8, 1942, Leon Huff was exposed to music through his mother. "That's how the piano got in our house," Huff remembers. "We had our own piano, we were the only family on the block that had a big upright piano in the dining room, up against the wall. My mother taught me some of the basics, but I had some formal teaching through the school system and private lessons. I still like to go to the churches to hear good music."
Besides his burgeoning piano skills, Huff participated in several throughout Camden. One group Huff participated in, the Dynaflows; auditioned for Ted Mack's Original Amateur Hour. Another group, the Lavenders, recorded a regional hit, "The Slide."
In the early 1960's; Leon Huff was making a living as a session pianist, when by a stroke of luck, he was able to participate in recording sessions with some of the top writers and producers in New York. Phil Spector hired Leon Huff to play on the Ronettes' "Baby, I Love You" [Philles 118], and on Spector's legendary Christmas album [Philles PHLP 4005]. "I became friendly with the engineer, Brooks Arthur, he would let me come into the studio. A lot of musicians weren't allowed inside the control room. So I used to go into the studio and watch Phil work. Phil Spector was amazing, he was coming up with that Wall of Sound music that was tearing the music charts up at that time."
While working with a Philadelphia productions duo, Johnny Madera and David White, Leon Huff received the opportunity to perform on sessions with his personal idols, Jerry Leiber and Mike Stoller. "It was through Johnny Madera and David White, that I met Jeff Barry and Ellie Greenwich," Huff recalls. "That was a blessing for me to be that fortunate to come in contact with these musical gods. I think Jeff really liked my style of playing, and he asked me to come up to New York and be on some Leiber and Stoller sessions. I knew Leiber and Stoller was, because I had dreams of being a producer and songwriter anyway. I went to the Brill Building and I walked into the office and saw these guys. At that time, they were producing the Ad-Libs. 'Boy From New York City' [Blue Cat 102], that was the first session they called me to play on, I was so nervous. So here I am in the studio, and I meet all these incredible people – Jeff Barry, Ellie Greenwich, Artie Butler, all these musicians, I couldn't stop my leg from shaking. When I started grooving, that's when I really settled down, because Jerry and Mike cut some really groovy records. 'Boy From New York City' shot up the charts so fast, it was like a thrill for me. I stuck that piano out in front, that was so great. That was a great time for me as a studio musician."
Encouraged by Madera and White to expand his musical horizons, Huff began writing songs. He wrote the first major hit for Patty and the Emblems, "Mixed Up, Shook Up Girl" [Herald 590]. Leon Huff set up an office in the Schubert Theatre, where he met his future songwriting partner, Kenny Gamble. "Kenny was on the sixth floor and I was on the second," said Huff, "and we used to pass each other in the elevator, but we didn't know each other."
Gamble and Huff later collaborated in Kenny Gamble's band, the Romeos. Huff also played on Candy and the Kisses' Top 50 song "The '81" [Cameo 336]. They found they had common interests in songwriting and production, so Gamble and Huff formed a production company with offices in the Shubert Theatre; and began a songwriting partnership that exists to this day.
Their first hits were for local Philadelphia artists. "Expressway To Your Heart," a Gamble- Huff collaboration inspired by a traffic jam on the Schuylkill Expressway, became the Soul Survivors' biggest hit [Crimson 1010]. Another Gamble-Huff collaboration, "Cowboys to Girls" [Gamble 214], became the Intruders' first #1 R&B hit and their first million-selling song. "The Intruders could really sing," Huff remembered. "They could harmonize – it wasn't really hard for us to rehearse them, once they got the parts, they knew the parts. They had the best harmony – I listen to their records now, and their harmony was just so good. And Little Sonny (Samuel Brown, the Intruders' lead vocalist) had such a unique voice. I was listening to his songs the other day, and I haven't heard a voice like that since."
A track Gamble and Huff co-wrote with Jerry Ross for Dee Dee Warwick, "I'm Gonna Make You Love Me," was covered by the superstar combination of the Supremes and the Temptations [Motown 1137]. "That was a thrill of a lifetime," says Huff. "We visited the Motown studios when that song was being recorded. I remember that so clearly – it was raining so hard when we got to Detroit. We were soaking wet by the time we got there, but that didn't bother me at all. When we pulled up in front of the Motown building, we saw this long line of people, just waiting to audition. I had never seen anything like that in my life. And we got past the people, and met Martha Reeves and the Vandellas first, then I remember meeting the Holland-Dozier-Holland songwriting team. I had a chance to go into the studio where all those hits were coming out of, it looked like a basement, but the sound they got out of that place was extraordinary. I saw this building full of people, and music coming out from everywhere. It gave us ideas of how we would create a recording studio if we ever got that opportunity."
A major break for the Gamble-Huff songwriting team came when they collaborated with Jerry Butler on the classic "Only The Strong Survive" [Mercury 72898]. The earliest nuances of "Philly Soul" – meaty lyrics of family survival; a chorus of strings dueting with a thumping bass, and a melody borrowed from equal parts gospel, soul and doo-### – could be found in this song. But the record also rejuvenated Jerry Butler's career and provided him with a new image – the "Iceman," someone that wouldn't give up, no matter how many times she broke his heart.
During the latter part of the 1960's, Gamble and Huff were two of the hottest songwriter- producers in the music industry, with artists including Dusty Springfield, Wilson Pickett, Archie Bell and the Drells, and Joe Simon all recording Gamble-Huff songs. Even Elvis Presley added a Gamble-Huff song to his repertoire.
"'Only The Strong Survive' was later covered by Elvis Presley," said Huff. "That was a big plus for us, we were proud that Elvis covered that song. Colonel Parker called down and said that Elvis was interested in that tune. I've been on cloud nine ever since. Because as a writer, especially a black writer, when a guy like Elvis Presley records one of your songs, that's got to bring you up a little bit. And when he recorded a Gamble and Huff song, that was a hell of an endorsement."
By 1971, Gamble and Huff had formed their own label, Philadelphia International Records, and secured a distribution deal with CBS. "Clive Davis (then head of CBS) was the kind of a record guy who knew what was going on in the music business," said Huff. "So I think Clive was aware of Gamble and Huff's independent track record as producers/songwriters. He knew about our talents, and he knew about our consistency, because were pretty consistent with our production company. And I think he was more excited about starting a relationship with us, as we were with him. Because Clive Davis respects talent. It's a proven factor today. I think Clive was looking for us, more than we were looking for national distribution."
With a stable core of artists – the O'Jays, Harold Melvin and the Blue Notes, Billy Paul, MFSB, the Three Degrees, the Ebony's and the Futures, Philadelphia International had monster hits almost from the first day of its inception. Billy Paul's jazz-influenced song, "Me and Mrs. Jones," hit #1 on both the R&B and pop charts and won a Grammy. The O'Jays' "Love Train" and "Back Stabbers" established them as one of the top vocal trios of the 1970's. After Huff rehearsed the drummer for Harold Melvin and the Blue Notes – and found out the drummer could sing – he suggested the drummer, Teddy Pendergrass, sing lead on some tracks, beginning the sensual soul singer's million-selling career.
By the end of 1974 Kenny Gamble, Leon Huff and co-publisher Thom Bell were the most dominant pop and soul producers, having placed more that 20 hits on the charts that year (Bell's production credits included tracks for the Stylistics and the Spinners). Two years after its creation, Philadelphia International was the second-largest African-American owned company in America, just behind Motown. Mighty Three Music Group, the publishing arm of music from Gamble, Huff and Bell, has been recognized by Billboard magazine as one of the top R&B/soul music publishers in the industry.
Gamble and Huff's songs were also reaching and appreciative international audience – the Three Degrees' song "When Will I See You Again" [PIR 3550] was so popular in England that, during a stop on their European tour, the female trio was presented a gold record by Her Highness, Princess Anne.
Through the 1970's, the Gamble-Huff collaboration provided major hits for other artists, including Lou Rawls, the Three Degrees, Shirley Jones and the Jones Girls, Thelma Houston, the Dramatics, Third World and the Soul Train Gang. In 1976, Gamble and Huff produced and co-wrote songs for the Jacksons' first two post-Motown albums. During those recording sessions, Michael Jackson paid close attention to the production and songwriting techniques of Gamble and Huff, and learned from those observations to create his own mega-platinum recording career.
"There was a message in their music that raised a social consciousness and political awareness without offending," wrote Michael Jackson in liner notes for PIR's three-CD box set. "Theirs is a gift of genius and I love them."
As the 1970's wound to a close, Gamble and Huff collaborated on a series of successful albums for Teddy Pendergrass, who had left Harold Melvin and the Blue Notes for a solo career. Those albums, full of soul steam and passion, established Teddy Pendergrass as one of the top-selling solo singers of the late 1970's and early 1980's.
Huff even released a solo album during this time period, "Here To Create Music" [PIR FZ-36758], with songs like Ain't Jivin', I'm Jammin'" [PIR 3122] receiving lots of club and dance airplay.
During the 1980's, Leon Huff continued to collaborate with Kenny Gamble, writing and producing tracks for Patti LaBelle and Phyllis Hyman, as well as for long-standing PIR artists Lou Rawls and the O'Jays. In 1989, Huff and Gamble received their first songwriting Grammy, as Simply Red's interpretation of the Harold Melvin and the Blue Notes' classic "If You Don't Know Me By Now" was awarded "Best Rhythm and Blues Song." According to BMI, as of 1996 "If You Don't Know Me By Now" has been performed over three million times.
In the 1990's, the music industry awarded Gamble and Huff some of their highest accolades. In 1993, Leon Huff along with his songwriting and producing partners Kenny Gamble and Thom Bell, were inducted into the Philadelphia Music Foundation's Walk of Fame, and brass plaques with their names were placed on the sidewalk of Broad Street's Avenue of the Arts in Philadelphia, only a stone's throw from the Philadelphia International studios.
On May 31, 1995, Gamble and Huff were inducted into the National Academy of Songwriters' Hall of Fame. Songs that they have co-written and co-produced, tracks like "Back Stabbers," "Cowboys to Girls," "Don't Leave Me This Way," "Enjoy Yourself," "For The Love of Money," "I'm Gonna Make You Love Me," "Only the Strong Survive," "If You Don't You Know Me By Now," "Love Train," and "TSOP" have received songwriters' awards from Broadcast Music International (BMI).
In February 1999, Kenny Gamble and Leon Huff were honored by the National Academy of Recording Arts and Sciences, who awarded the songwriter duo the Trustees Award. The award, whose past winners include Thomas Edison, Duke Ellington, the Beatles, Frank Sinatra, George & Ira Gershwin, Berry Gordy and Walt Disney, honors Gamble and Huff for their body of work, both as producers and songwriters, and their contribution to the entire fabric of popular music.
Over the years, the Gamble and Huff team has been responsible for 70 #1 pop and R&B singles and 175 RIAA gold, platinum, and multi-platinum certifications. To-date, the Kenny Gamble and Leon Huff partnership has produced more than 3,500 songs and won 5 Grammys.
Having been covered or sampled by a vast array of artists including Jay-Z, Babyface, Nelly, OutKast, Angie Stone, Simply Red (whose 1989 version of "If You Don't Know Me By Now" was a #1 record earning Gamble and Huff the Best R&B Song Grammy), Bette Midler, Mary J. Blige, Michael Bublé, Kanye West, 50 Cent and T.I., among many others, Gamble and Huff songs and productions have entered the musical DNA of contemporary culture. It has been reported that one of Gamble and Huff's songs is played on the radio somewhere in the world every 13.5 minutes.
One of the most sought-after and heavily licensed catalogs of music in the world, the sounds of Gamble and Huff have figured prominently in television programs, films and advertising spots for more than 30 years. MFSB's #1 hit from 1974, "TSOP (The Sound of Philadelphia)," is best-known as the theme song for "Soul Train" while the O'Jay's funk/soul classic "For The Love Of Money," first released in 1973, enjoyed a massive resurgence as the theme song for Donald Trump's reality show, "The Apprentice" in 2004. Gamble-Huff songs may be heard in the soundtracks for a host of recent Hollywood films including the Bernie Mac-Ashton Kutcher- romantic comedy "Guess Who" (2005) and Eddie Murphy's 1996 hit "The Nutty Professor." Gamble-Huff songs have been used in high-profile television ad campaigns for Verizon, Old Navy, the Gap and Coors Beer, among many others.
With a catalog that has lasted more than 45 years, Gamble and Huff continue to receive national and international accolades with the duo's music being prominently featured on such top-rated shows as Donald Trump's "The Apprentice," "Dancing With The Stars," and "American Idol," which have showcased such Gamble and Huff produced hit recordings as "For The Love Of Money," "If You Don't Know Me By Now," "Don't Leave Me This Way" and others throughout their respective seasons. Most recently, the NBC "Today" show honored Gamble and Huff for their more than 45 years of creative work as music producers.
Gamble and Huff and the PIR catalog have been bestowed with countless accolades and honors including the 1999 Trustees Award from the National Academy of Recording Arts and Sciences (NARAS & the Grammy Foundation) for their "significant contributions…to the field of recording." For their historic contributions to dance, soul and disco music, Gamble and Huff were inducted into the Dance Music Hall of Fame in September 2005. As prolific songwriters for a host of artists, Gamble and Huff were inducted into the Songwriters Hall of Fame in 1994. Gamble-Huff artists and productions have received multiple awards from the Rhythm & Blues Foundation. Gamble and Huff were recipients of the prestigious Ivor Novello Award, presented in London by the British Academy of Composers and Songwriters, in 2006.
45 years after the duo's very first collaborations, Gamble and Huff were inducted into the Rock & Roll Hall of Fame with the newly-named Ahmet Ertegun Award (formerly the "non-performer category") at a ceremony at the Waldorf-Astoria Hotel in New York City on March 10, 2008. More recently, Gamble and Huff were honored at the BMI Pop Icon Awards in Los Angeles, California on May 19, 2009. The duo's indelible contributions to popular music and culture were felt in the 2008 Grammy Awards nominations with several categories featuring samples or interpretations of classic Gamble-Huff songs. Kanye West--who's nominated for Album of the Year, Best Rap Solo Performance and Best Rap Album--incorporated Edwin Birdsong's "Cola Bottle Baby" into the track "Stronger" from his album "Graduation." Michael Bublé performs the classic "Me & Mrs. Jones" on "Call Me Irresponsible," a nominee for Best Traditional Pop Vocal Album. Keyshia Cole included a sample of the O'Jays' "She's Only A Woman" on "Just Like You," a nominee for the Best Contemporary R&B Album Grammy.
In August 2007, Sony BMG Music Entertainment entered into an historic agreement to license the complete catalog of music from Philadelphia International Records (PIR), the groundbreaking hit-making label founded by Kenneth Gamble and Leon Huff in 1971, to be released through Sony BMG Music Entertainment's Commercial Music Group and Legacy Recordings.
PIR became the birthplace, incubator and launching pad for the Philly Soul sound, a unique blend of R&B rhythms, sweet soul vocals, deep funk grooves, pulsing horn charts and lush string arrangements with melodic structures combining elements of pop, jazz and world music. A sophisticated sound lovingly crafted in the studio by some of the 20th century's most influential producers and production teams—including Kenneth Gamble and Leon Huff, Thom Bell, Linda Creed, Gene McFadden and John Whitehead, Bunny Sigler, Dexter Wansel, Joe Tarsia and others—Philly Soul set the stage for disco, smooth jazz, adult contemporary music and more.
Leon Huff continues to produce and write songs to this day, and is never far from a piano or keyboard when the inspiration arises. He also watches as his son, Leon Huff Jr. ("Pop"), follows in his father's footsteps, recording his own tracks that will someday be popular songs for the new millennium. Leon Huff himself continues to write and record songs daily. He is currently completing a R&B and Jazz style album to be released under Sony Legacy soon. He currently lives in New Jersey with his wife Regina, the love of his life. Leon continues to be "inspired, humbled and, more importantly, proud" of the music he co-created and its lasting impact on the world and people's lives.