Kenneth Gamble
Co-Chairman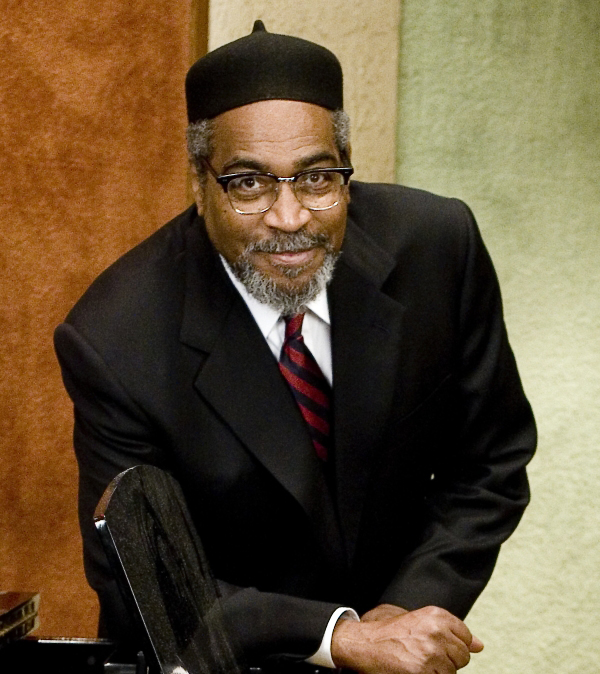 Co-Founder and Chairman, Philadelphia International Records
They sat in the audience, politely smiling when the television cameras focused on them. It was 1999 and Kenny Gamble and Leon Huff, who'd been songwriting and producing partners for more than 30 years, had just received the Grammy Trustees Award from the National Academy of Recording Arts and Sciences. Film/superstar and fellow Philadelphian Will Smith acknowledged Gamble and Huff's award by shouting into the podium microphone, at the top of his lungs, and leading the audience into a boisterous chant of "PHILLY IN THE HOUSE!!!"
Smith wasn't just boasting about the duo's home town. His chant acknowledged the musical style Kenny Gamble and Leon Huff have brought from the streets of Philadelphia to airwaves and record collections around the world, a balance of passionate soul ballads and funky dance tracks that became known as the "Philly Sound," or more appropriately, a "Gamble and Huff song." The duo's songs of peace, love, social conscience and turmoil have sold millions of records, created superstars from artists previously toiling in obscurity, and generated the sweet, sexy, stirring, socially conscious "Sound of Philadelphia."
Born in Philadelphia on August 11, 1943, Kenny Gamble was always surrounded by music, and spent much of his youth working in the music industry. He cut his first records at local penny arcade recording booths, brought coffee to WDAS morning radio personalities Georgie Woods and Jimmy Bishop, and operated his own record store in South Philadelphia. In the early 1960's, his harmony group, "Kenny Gamble and the Romeos," had a regional hit with "Ain't It Baby, Pt.1" (Arctic 114). The Romeos' lineup—which included songwriter Thom Bell and guitarist Roland Chambers—would establish a decades- long association between Kenny Gamble and his songwriting/producing partner, Leon Huff.
While with the Romeos, Gamble and Huff discovered their shared love of songwriting and composing. "When me and Huff first got together," Kenny remembers, "the first time we wrote, we must have wrote ten songs. We were writing some songs for another group, the Sapphires (including the 1964 hit 'Who Do You Love,' on Swan 4162). Ten songs in one sitting. And it's been like that ever since."
A early Gamble and Huff song, "I'm Gonna Make You Love Me," originally written for, and recorded by Dee Dee Warwick, was later covered in a superstar pairing of the Supremes and the Temptations resulting in a major Top 10 hit. "One day I was riding home," Kenny recalls, "and I heard Jimmy Bishop say on the radio, 'There's a new record by Diana Ross and the Supremes and the Temptations, "I'm Gonna Make You Love Me,'" and I almost crashed my car. Hearing that song sung by them was beautiful, I enjoyed that, it was like a lift. They took that song to where it needed to be."
From that point onward, Gamble and Huff became the hottest independent R&B producing team of the late 1960's. Artists like the Soul Survivors ("Expressway To Your Heart"), Archie Bell and the Drells ("I Can't Stop Dancin'"), Wilson Pickett ("Don't Let The Green Grass Fool You"), The Intruders ("Cowboys To Girls") and Aretha Franklin ("A Brand New Me") all benefited from the Gamble-Huff production and songwriting magic. Gamble and Huff's collaborations with Jerry Butler produced two #1 R&B hits, "Only The Strong Survive" and "Hey, Western Union Man," providing "The Iceman" with a new singing career.
After some early successes with their own homemade labels, Gamble and Huff created "Philadelphia International Records" in 1971. Following a conversation with then-CBS Records president Clive Davis, PIR secured a distribution deal through America's largest record label. From the day PIR first opened its doors, artists on this new label began to dominate the R&B and pop charts. Within a year, the O'Jays had #1 R&B and pop hits including "Backstabbers" and "Love Train"; Harold Melvin and the Blue Notes were riding high with "If You Don't Know Me By Now"; and Billy Paul earned the label's first Grammy with "Me and Mrs. Jones."
During the early 1970's, Philadelphia International Records was a dominant force in the R&B and pop music industries. By 1974, Kenny Gamble, Leon Huff and Thom Bell (the partners in PIR's music publishing company, Mighty Three Music) placed over 25 songs on the pop and R&B charts, making Mighty Three Music the biggest-selling music publishing company of the year. Two years after its creation, Philadelphia International was the second-largest African-American-owned music company in America, just behind Motown. And CBS Records was now distributing more soul music than at any time in the company's previous history.
During these fertile years, Kenny Gamble and Leon Huff were able to tailor songs for various artists and musical styles. They emphasized Lou Rawls' deep bass voice for the hit "You'll Never Find Another Love Like Mine." When the Jackson Five left Motown in 1976, they recorded their first two Epic LP's in Philadelphia—with Gamble-Huff songs and the Philadelphia International production crew. Gamble and Huff even wrote hits for the PIR house band, MFSB, creating the long-running theme for the TV dance show Soul Train, "TSOP (The Sound of Philadelphia)."
"TSOP" not only reflected the music of Philadelphia and of MFSB, but it also represented the sound and spirit of the City of Brotherly Love – it was freedom at Independence Hall, the vibrations of the Liberty Bell, the locomotive rhythm of a SEPTA subway train, the graceful ebb-and-flow of a Bobby Clarke slap, a Mike Schmidt triple and a Julius Erving dunk. When Dick Clark hosted "American Bandstand" from Philadelphia, the way to rank a record was to say that it had "a good beat and you can dance to it." With "TSOP," the beat was so strong everybody in the world could find the groove.
One of Kenny Gamble's proudest moments in Philadelphia International history involves a song and album he recorded with the entire PIR roster, "Let's Clean Up The Ghetto." Originally designed as a Tobacco Road – style ballad for Lou Rawls, "Let's Clean Up The Ghetto" featured the vocal talents of Teddy Pendergrass, Billy Paul, the O'Jays, Lou Rawls, The Intruders, Dee Dee Sharp and Archie Bell. Young people were hired to pick up garbage, paint over graffiti, and sweep dirty street in their neighborhood. The successful project was initially endorsed by the mayors of Chicago, Los Angeles, Memphis and Atlanta, then adopted by states throughout America. Among the proclamations the project received, one was from Pennsylvania governor Milton Shapp, who reserved one week in August each year for "Clean Up The Ghetto Week."
The "Clean Up The Ghetto" campaign evolved into the realization of a special personal dream for Kenny Gamble: the renovation of his South Philadelphia neighborhood. With his Universal Companies, Gamble gave his old neighborhood a new lease on life. He opened a successful restaurant at 15th and Christian streets; after five years, it became more successful bookstore. He purchased over 100 condemned and vacant properties, and provided construction jobs to local residents to fix up the properties – which are then rented to low-income and middle-income families. The area framed by Broad and 18th and Christian and South Streets is now thriving, thanks to the efforts of Kenny Gamble.
"The Universal Companies encourage economic growth that will help resurrect some of the small businesses in the area," said Kenny in 1999. "The Universal Business Center is a place where small businesses can have a support system to help them thrive. We have the Universal Institute Charter School, which is an option to public education through the charter school system, which opened in September 1999 with 300 students. We have the Universal Community Employment Training Center, which has programs for adults to teach them job skills and provide job placement. It's one thing to build a house, but we're doing substantially more than that – we're rebuilding a neighborhood and rebuilding the people in the neighborhood, so they can sustain the neighborhood. If we know better, we do better."
"We all need a little bit of religion," said WDAS disc jockey George Woods, "but Gamble and Huff never preached. They were committed to a single purpose: the well being and welfare of their people. Making lives and conditions better in the community. Teaching responsibility and self-respect. Encouraging people to vote and clean up their neighborhoods. Honoring the importance of family."
Kenny Gamble's charitable contributions are not limited to his neighborhood. He has provided contributions and support to the T.J. Martell Leukemia Foundation and the AMC Cancer Research Center and Hospital (when the latter organization honored Gamble with their Humanitarian Award in 1980, it was the first time that their award was bestowed upon and African-American individual).
He also sits on the board of directors of the Philadelphia Music Foundation, whose goal is to honor the legacy and accomplishments of singers, songwriters and musicians from the City of Brotherly Love. Brass plaques line the sidewalks of South Broad Street, honoring such performers as Bessie Smith, Leopold Stokowski, The Four Aces, Boyz II Men, Phyllis Hyman, Joan Jett, the Intruders, Teddy Pendergrass – and Kenny Gamble, Leon Huff and Thom Bell, who in 1993 saw their plaques installed across the street from the Philadelphia International studios.
During the late 1970's and early 1980's Gamble and Huff continued to write Top 10 hits for Teddy Pendergrass, the O'Jays and the Jones Girls. They produced million-selling hits for McFadden and Whitehead, Patti LaBelle and Phyllis Hyman. They also saw many of their compositions become big hits for other artists. Their songs were re-recorded by the Communards ("Don't Leave Me This Way"), Tierra ("Together"), Heavy D and the Boyz ("Now That We've Found Love"), Nas ("I Remember," using the melody from "Cowboys To Girls"), Daryl Hall and John Oates ("Love Train"), and Big Punisher ("I'm Not A Player," which samples from the Gamble and Huff catalog). Countless classic and contemporary R&B producers--from Jimmy Jam and Terry Lewis, to L.A. and Babyface, to Diddy and beyond--can all trace their musical roots back to the productions of Gamble and Huff.
In August 2007, Sony BMG Music Entertainment entered into an historic agreement to license the complete catalog of music from Philadelphia International Records (PIR), the groundbreaking hit-making label founded by Kenneth Gamble and Leon Huff in 1971, to be released through Sony BMG Music Entertainment's Commercial Music Group and Legacy Recordings.
Having been covered or sampled by a vast array of artists including Jay-Z, Babyface, Nelly, OutKast, Angie Stone, Simply Red (whose 1989 version of "If You Don't Know Me By Now" was a #1 record earning Gamble and Huff the Best R&B Song Grammy), Bette Midler, Mary J. Blige, Michael Bublé, Kanye West, 50 Cent and T.I., among many others, Gamble and Huff songs and productions have entered the musical DNA of contemporary culture. It has been reported that one of Gamble and Huff's songs is played on the radio somewhere in the world every 13.5 minutes.
One of the most sought-after and heavily licensed catalogs of music in the world, the sounds of Gamble and Huff have figured prominently in television programs, films and advertising spots for more than 30 years. MFSB's #1 hit from 1974, "TSOP (The Sound of Philadelphia)," is best-known as the theme song for "Soul Train" while the O'Jay's funk/soul classic "For The Love Of Money," first released in 1973, enjoyed a massive resurgence as the theme song for Donald Trump's reality show, "The Apprentice" in 2004. Gamble-Huff songs may be heard in the soundtracks for a host of recent Hollywood films including the Bernie Mac-Ashton Kutcher- romantic comedy "Guess Who" (2005) and Eddie Murphy's 1996 hit "The Nutty Professor." Gamble-Huff songs have been used in high-profile television ad campaigns for Verizon, Old Navy, the Gap and Coors Beer, among many others.
With a catalog that has lasted more than 45 years, Gamble and Huff continue to receive national and international accolades with the duo's music being prominently featured on such top-rated shows as Donald Trump's "The Apprentice," "Dancing With The Stars," and "American Idol," which have showcased such Gamble and Huff produced hit recordings as "For The Love Of Money," "If You Don't Know Me By Now," "Don't Leave Me This Way" and others throughout their respective seasons. Most recently, the NBC "Today" show honored Gamble and Huff for their more than 45 years of creative work as music producers.
Gamble and Huff and the PIR catalog have been bestowed with countless accolades and honors including the 1999 Trustees Award from the National Academy of Recording Arts and Sciences (NARAS & the Grammy Foundation) for their "significant contributions…to the field of recording." For their historic contributions to dance, soul and disco music, Gamble and Huff were inducted into the Dance Music Hall of Fame in September 2005. As prolific songwriters for a host of artists, Gamble and Huff were inducted into the Songwriters Hall of Fame in 1994. Gamble-Huff artists and productions have received multiple awards from the Rhythm & Blues Foundation. Gamble and Huff were recipients of the prestigious Ivor Novello Award, presented in London by the British Academy of Composers and Songwriters, in 2006.
45 years after the duo's very first collaborations, Gamble and Huff were inducted into the Rock & Roll Hall of Fame with the newly-named Ahmet Ertegun Award (formerly the "non-performer category") at a ceremony at the Waldorf-Astoria Hotel in New York City on March 10, 2008.
The duo's indelible contributions to popular music and culture can be felt in this year's Grammy Awards nominations with several categories featuring samples or interpretations of classic Gamble-Huff songs. Kanye West--who's nominated for Album of the Year, Best Rap Solo Performance and Best Rap Album--incorporated Edwin Birdsong's "Cola Bottle Baby" into the track "Stronger" from his album "Graduation." Michael Bublé performs the classic "Me & Mrs. Jones" on "Call Me Irresponsible," a nominee for Best Traditional Pop Vocal Album. Keyshia Cole included a sample of the O'Jays' "She's Only A Woman" on "Just Like You," a nominee for the Best Contemporary R&B Album Grammy.
Even with all these awards and accolades, Kenneth Gamble continues to write songs everyday, collaborating both with his longtime partner, Leon Huff, and developing other writers and producers in the Philadelphia area. With his current focus to improve the lives of others through his personal multimillion dollar investment back into the African-American community, his personal decision to move his wife Faatimah, his sons Caliph and Salahdeen and his daughter Princess Idia family back into his old neighborhood, Kenneth Gamble continues to make a difference both in music and life.